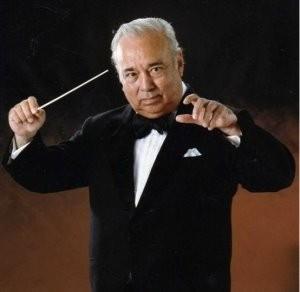 Aldemaro Romero was an arranger, composer, and pianist. He was known as an innovator of Venezuelan music, the onda nueva (new wave) by updating the traditional joropo style incorporating rhythms inspired by bossa nova, he also helped increase the visibility of Venezuelan music on an international level. His training started under the tutelage of his father, Rafael, a professional pianist. By age nine his was a known name on Venezuelan radio where he sung and played guitar on the radio show, La Hora Infantil.
At age 13 he and his family relocated to Caracas where he played in local orchestras and nightclubs. After a tour of Cuba in 1949, Romero made his debut in the U.S., where he played in New York City. He returned home to Caracas where he founded his own dance orchestra. In 1948, Romero traveled to New York to work as an arranger and piano accompanist for the record label RCA Victor. He went on to sign a recording contract with RCA Victor and recorded the hit album Dinner in Caracas. It proved to be one of the best-selling albums in the history of the South American charts.
Also, it reinvented the traditional Venezuelan folk melodies and became an international hit as well as introducing a creative point in Latin American jazz.

In 1952, he began the famous sequel of recordings titled Dinner in… (Caracas, Rio, Buenos Aires, Columbia and Mexico).

During his time with RCA, Romero was an arranger and conductor for famous singers Dean Martin, Jerry Lee Lewis, and Stan Kenton, to name a few. In 1969 Romero won the Moscow Cinema Festival's Peace Prize of the Soviet Intellectuals for his composition for the Simón Bolivar motion picture epic. He founded the Caracas Philharmonic Orchestra and served as its first conductor. He also conducted the London Symphony Orchestra, the English Chamber Orchestra, and the Royal Philharmonic Orchestra. He died in Caracas on September 15, 2007 after a lengthy digestive illness.
| | | | |
| --- | --- | --- | --- |
| 1970 | | | |
| | | | |
| | | | |
| | | | |
| | | | |
| | | | |
| | | | |
| | | | |
| | | | |
| | | | |
| | | | |