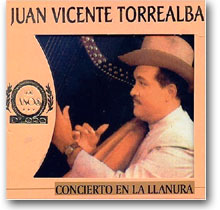 Juan Vicente Torrealba was born on December 20th, 1917 in Caracas, Venezuela.

He is known for playing various instruments, especially the harp, which has become his passion.

At a very young age his parents settled in Camaguán, Guárico state, in the heart of the Venezuelan plains. This is where he learned to play guitar, cuatro and later the harp, an instrument that has accompanied him since he was 16.

He started giving public recitals at age 18 but "feeling that he would never reach the standard to which he aspired" (Wikipedia), he started working as a bookkeeper for a newspaper.
In 1947 he formed his own musical group called "The Torrealberos", which included his brother Arturo, his nephew Santana Torrealba Leon, and vocalist Ángel Custodio Loyola
.

In 1948 he returned to Caracas, where his reputation as a folk musician took him on tour through different locations both in America and in Europe during the 1960s and 70s.

In 1971 he recorded the

Rhapsody llanera

with a full orchestra, and continued

incorporating improvements in the sound of his harp with addition of keyboards and electronic amplification.
In 1978 Torrealba dissolved his group and created a dance orchestra in which he experimented with salsa.

It was called the

Juan Vicente Torrealba and his Super Beat 80.

In 1981 he signed with the label Torrealba
Sonográfica
, with which he made his last recordings before retiring from music in 1986. Among the reasons was the lack of promotion he felt towards folk music.
During his career he recorded some 130 albums and composed more than 300 songs.

Among the numerous awards and recognitions received, Torrealba was appointed Honorary Professor
Military Academy of Venezuela
, Cultural Heritage of Universal Music by the Colombian department of Meta, and in the Mexican city of Xalapa a square, a street and a park bear his name
Discography:
195 -

The purest music and Bella Vzla

Largo Bank BL500

195 -

The purest music and Bella Vzla

Largo Bank BL501

195 -

The purest music and Bella Vzla

Largo Bank BL502

195 -

The purest music and Bella Vzla

Largo Bank BL504

195 -

Symphony Del Palmar

Largo Bank QBL1201

195 -

Reasons Llaneros

Largo Bank QBL1202

19 -

Concert In The Plain Vol.1

Largo Bank QBL1204

19 -

Serenata Llanera

Largo Bank QBL1207

19 -

Peasant

Largo Bank QBL1209

19 -

Concert In The Plain Vol.2

Largo Bank QBL2204

19 -

Concert In The Plain Vol.3

Largo Bank QBL2207

19 -

Concert In The Plain Vol.4

Largo Bank QBL2206

19 -

The golden age of Torrealberos

Largo Bank QBL2210

19 -

Harp Solos

Largo Bank QBL2212

19 -

Rhapsody Llanera

Largo Bank QBL2214

19 -

Alma Llanera

Largo Bank QBL2215

19 -

Concert In The Plain Vol.5

Largo Bank QBL2216

19 -

Concert In The Plain Vol.6

Largo Bank QBL2217

19 -

Stampede Electronics

BASF (10,002)

19 -

I would

BASF (10,004)

19 -

Suenos Del Llano

BASF (10,009)

19 -

Summer Ranger

BASF (10,038)

19 -

Maria Teresa

BASF (10,040)

19 -

Al Son De Juan Vicente

BASF (10,047)

19 -

Conticinio

BASF (10,050)

19 -

Stampede Electronics Vol 2

BASF (10,052)

19 -

Mexico

BASF (10,054)

19 -

Aragua and Llano

BASF (10,056)

19 -

Flights Immortals

BASF (10,057)

19 -

Colombia

BASF (10,058)

19 -

Torrealberos Classics

BASF (10,059)

19 -

Caribbean Music

BASF (10,060)

19 -

Ranger I

BASF (10,063)

19 -

Alma Llanera

BASF (10,075)

19 -

Celebs Torrealberas

BASF (10,081)

19 -

Venezuelan Waltzes Vol 1

------

19 -

Venezuelan Waltzes Vol.2

------

1975

Al Son De Juan Vicente

(Vol. 3)

BASF

1977

Italy In Rhythm Tropicale

BASF

1997

To the sound of JVT Vol 1

(CD Reissue)

Sonogram

1997

Colombia

(CD Reissue)

Sonogram

1997

Mexico

(CD Reissue)

Sonogram

1999

'm Ranger Vol.1

(CD Reissue)

Sonogram

1999

Conticinio

(CD Reissue)

Sonogram

2001

Aragua and Llano

(CD Reissue)

Sonogram

2001

Caribbean Music

(CD Reissue)

Sonogram

2001

Venezuelan Waltzes

(CD Reissue)

Sonogram

Compilations:

1996

18 Greatest Hits

Sonogram

2001

40 Years 40 Hits

Velvet
Appears on:
1972
Maria Teresa Chacin
The Paraulata
References:
http://en.wikipedia.org/wiki/Juan_Vicente_Torrealba
http://clientes.folletoweb.com/glorias/biografias/torrealba.php
http://www.musicallanera.net/biografias/juan_vicente_torrealba.htm
http://sincopa.com/traditional/artists2/juan_vicente_torrealba.htm
Images: